About us
Leaders in Pain Management
Epione Pain Management Center is established with a mission to deliver world-class pain management care to every one.
Dr. Sudheer Dara
Director of Epione & Chief of Pain Medicine
A New Dimension in Chronic Pain Management
Epione – Center for Pain Relief & Beyond
Founded in 2018 by Dr Sudheer Dara, a pioneer in pain medicine, Epione Center for Pain Management & Beyond boasts state of the art architecture & cutting-edge medical tech in treating pain patients. Epione is one of a kind pain management center in Hyderabad, which takes a multi-modal & holistic approach to treat pain conditions.
With the invaluable experience & expertise Dr Sudheer Dara & his team bring to the table, Epione stands ahead of other pain management centres in providing world-class holistic care for patients suffering from pain. A multidisciplinary team helps us take a multimodal approach in treating a wide gamut of pain conditions.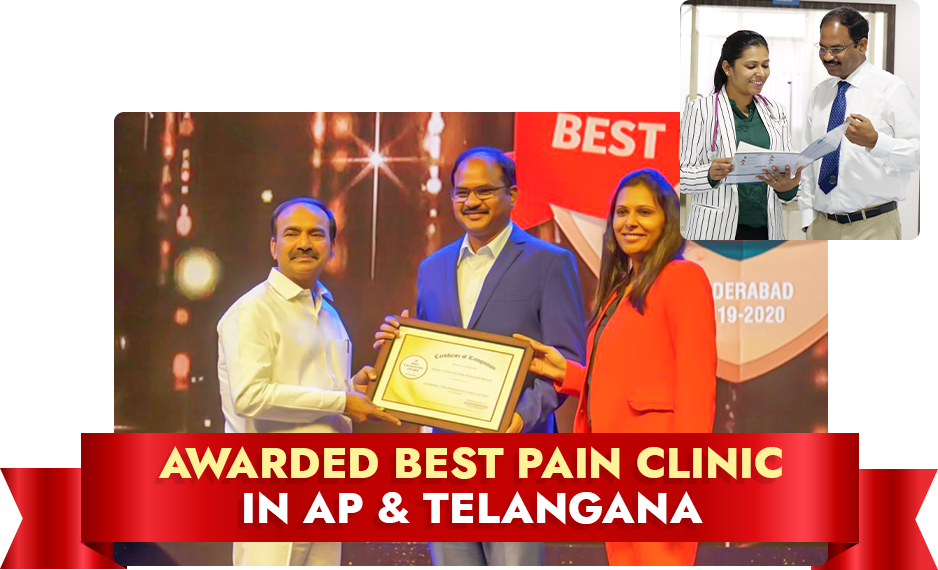 OUR FACILITIES
Epione is one of India's leading pain management centers founded by Dr. Sudheer Dara, a pioneer in pain management with over 20+ years of experience in the field of pain medicine.
Epione center for pain relief and beyond is regarded as one of the best pain management hospitals in Hyderabad, India. With an accomplished team of pain specialists backed by Neurologists, Orthopedicians, Psychologists, physiotherapists & rehab experts, we at Epione we helped over 5000+ patients lead a pain-free life. Epione stands ahead of others in providing a plethora of world-class, multidisciplinary pain management services under one roof. Our global exposure & state of the art infrastructure helps us provide innovative & personalized care to all of our patients.
Our Multidisciplinary Team
Leaders in Chronic Pain Management
Founder & Director of Epione & Chief of Pain Medicine

Founder & Chief Consultant Radiologist

Cofounder & Consultant Pain Specialist
Our Brand Ambassadors
Listen to our patients share their experiences at Epione
I finally got relief from my back pain thanks to Epione

Mrs. Aswathi Subramanyan

Back Pain Treatment

Dr Sudheer cured me from knee pain due to arthritis

Mrs. Padmaja

Knee Pain Treatment

I suffered from foot pain for 5 years but finally found pain relief at Epione

Mr. BVS Prasad

Foot and Ankle Pain Treatment

I can't believe I got relieved of my back pain in a single day

Mr. Sreekanth

Back Pain Treatment
I was suffering with severe neck pain since last 7years , hav all type of physiotherapy and massages and chiropractor but no relief then I met Dr Sudheer and Dr minal at this center…

Dava Ramesh

Very good doctor. Suffering from knee pain from last 4 years and didn't want to get a surgery. They treated my knee pain with out surgery with stem cell therapy. I am very happy with the results.

Meghana Reddy

By far the best pain management specialists in town. After consulting several places with no effect, Epione made sure that they treated my mother's delicate pain condition with patience…

Deepthi K

I am very thankful to doctors in Epione pain management center. My neck pain has gone which I was fighting since last 4 years . Dr sudhir Dara and dr minal have helped me come out…

Sanjana Tirkey